UN News
https://news.un.org/en/story/2018/12/1027241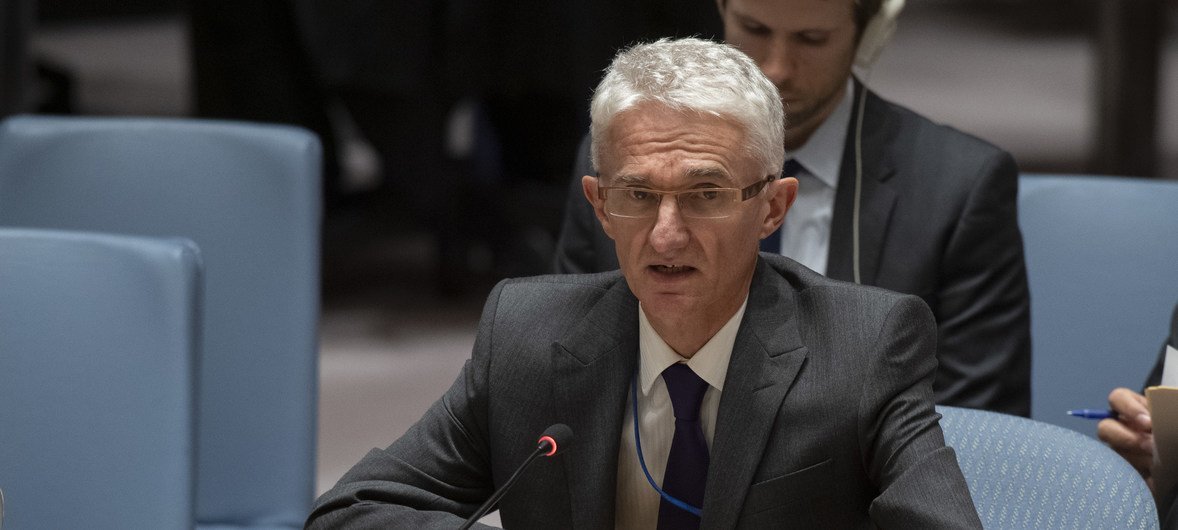 UN Photo/Eskinder Debebe. Security Council meeting on The situation in the Middle East.
1 December 2018: Humanitarian Aid
Conditions in Yemen have deteriorated alarmingly, and the country is on the "brink of a major catastrophe" said Mark Lowcock – Under-Secretary-General for Humanitarian Affairs and Emergency Relief Coordinator – on returning from his mission to Yemen on Saturday.
"But it is not too late," he added: "In my meetings with officials of the internationally recognized Government of Yemen in Aden and the de facto authorities in Sana'a, I was encouraged to hear strong support for relief operations."
Around 2.3 million people are currently displaced across Yemen, and, since June alone, more than 500,000 people have fled conflict in and around the strategically important port city of Hudaydah, the major port of entry for most of the county's food and humanitarian aid.
Mr. Lowcock, describing some of the scenes that faced him during his visit, said: "I met families outside Sana'a who fled their homes four years ago when conflict escalated and are still living in terrible conditions. In Lahj, I visited an overcrowded camp that hosts hundreds of desperate families displaced by recent fighting in Hudaydah."
The consequences of the Yemen conflict, especially the recent economic crash in the country, have driven major increases in severe hunger and malnutrition, leading to a humanitarian crisis that senior UN officials have called "the largest food security crisis in the world."
Mr. Lowcock said that he had witnessed the suffering of Yemeni civilians hit by the failed Yemeni economy, who can't afford food, clean water or transport to a clinic: "In Aden, I met emaciated children so malnourished they could barely open their eyes. Humanitarian assistance helps many of these children recover. But I also heard heartbreaking stories of children relapsing again and again because their families simply can't afford food or proper medical care."
The Under-Secretary- General reiterated that only a political solution can end the crisis in Yemen, and welcomed news that the warring parties plan to travel to Sweden for peace talks convened by Martin Griffiths, the UN Special Envoy for Yemen, but he warned that, because of the deteriorating humanitarian situation, a large step-up in funding will be needed for the Yemen aid effort in 2019.