Prince Ahmed bin Abdelaziz tells London activists wider royal family not to blame for kingdom's foreign policy moves.
Saudi Arabia's King Salman appointed his son, Mohammed bin Salman, as heir in June 2017 [File: Hassan Ammar/AP File]
A Saudi prince has told protesters in Britain's capital that the wider royal family ought not to be blamed for what is happening in the region, pointing the finger instead at the "king and his heir apparent".
The comments can be heard in a video that captured an encounter outside an unnamed London location between Prince Ahmed bin Abdelaziz - one of the few remaining sons of the founder of Saudi Arabia - and a group of activists chanting slogans such "down, down, the Al Saud" and "criminal family Al Saud".
In the footage, which was posted on social media earlier this week, the prince approaches the activists and answers some of their questions on the situation in Yemen and Bahrain.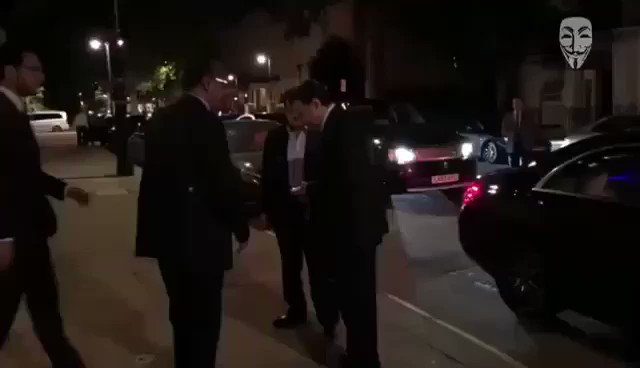 Translation: Prince Ahmed bin Abdelaziz, King Salman's brother, heard opposition figures chanting "down down Al Saud" so he retorted, "All of the Al Sauds can't be blamed!? There are people responsible for the state of war in Yemen."
"There are specific people that are responsible. Don't blame the entire family," the prince said. "In Yemen and elsewhere, our hope is that the war ends today before tomorrow."
Asked who these individuals were, the prince said it "was the king and his heir apparent", in reference to Saudi King Salman bin Abdulaziz Al Saud and Crown Prince Mohammed bin Salman, also known as MBS.
The conflict in Yemen has escalated dramatically since March 2015, when Saudi-led forces launched a military operation against advancing Houthi fighters.
Since the conflict began, more than 10,000 people have been killed, and millions have been driven from their homes.
Campaigners have accused MBS, who also serves as defence minister, of being the "chief architect" of the Yemen war, which has led to what the United Nations describes as the world's worst humanitarian crisis.
Wave of arrests
Public displays of dissent are rare in the kingdom, where critics of the government and Saudi monarch face lengthy jail sentences, corporal punishment and hefty fines.
Dozens of royal family members, ministers, and top businessmen were arrested in November 2017 during an "anti-corruption purge" launched by MBS. Allegations against those detained included money laundering, bribery, and extorting officials.
The crackdown, which came about via a royal decree, was said to be in response to "exploitation by some of the weak souls who have put their own interests above the public interest, in order to illicitly accrue money".
Most were freed after reaching settlement deals with the government, including Saudi businessman and billionaire Prince Alwaleed bin Talal.
Experts have argued that the arrests were a way for the crown prince to consolidate economic and political power in Saudi Arabia.
Prince Ahmed previously served as interior minister between June and November 2012 under the late King Abdullah before being replaced with Prince Mohammed bin Nayef.
https://www.aljazeera.com/news/2018/09/saudi-royal-king-heir-apparent-responsible-yemen-war-180904111416506.html