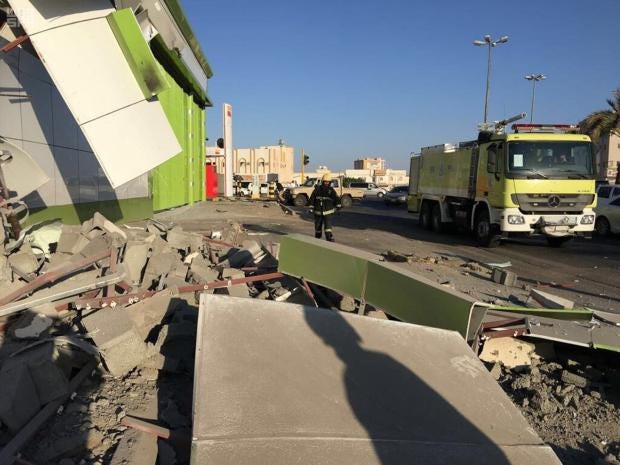 Exclusive:
Campaigners say 'mountain of evidence' shows British-made weapons being used to commit war crimes
Lizzie Dearden
Home Affairs Correspondent
The number of British-made bombs and missiles sold to Saudi Arabia since the start of its bloody campaign in Yemen has risen by almost 500 per cent, The Independent can reveal.
More than £4.6bn of arms were sold in the first two years of bombings, with the Government grant increasing numbers of export licences despite mounting evidence of war crimes and massacres at hospitals, schools and weddings.
The United Nations says air strikes by the Saudi-led coalition are the main cause of almost 5,295 civilian deaths and 8,873 casualties confirmed so far, warning that the real figure is "likely to be far higher".
It has condemned the "entirely man-made catastrophe" leaving millions more on the brink of famine and sparking the world's worst cholera epidemic, while blacklisting Saudi Arabia for killing and maiming children.
There is also fresh concern over the Kingdom's attempt to shut all air, land and sea ports into Yemen, which it said was to stop the flow of weapons but will also halt aid imports.
British-made bombs have been found at the scene of bombings deemed to violate international law but the UK has continued its political and material support for Riyadh's campaign.
Figures from the Department for International Trade (DIT) show that in the two years leading up to the Yemen war, £33m of ML4 licences covering bombs, missiles and countermeasures were approved.
But in the two years since the start of Saudi bombing in March 2015, the figure increased by 457 per cent to £1.9bn, according to calculations by Campaign Against the Arms Trade (CAAT).
Licences covering aircraft including Eurofighter jets have also risen by 70 per cent to £2.6bn in the same period.
Tom Barns, co-director of CAAT, said the Government has been accelerating sales of "equipment being used to commit atrocities in Yemen" as the pace of Saudi-led air strikes increases.
"Over the course of this year the situation in Yemen is only getting worse," he added.
"At a time when the UK should at least be putting more consideration into what's being sold they are giving more and more of these licences."
The products being sold include Raytheon's Paveway IV bomb, which was found at the scene of an air strike that hit vital food stores in January last year, and the Brimstone, Storm Shadow, PGM 500 Hakim and Alarm missiles.
Accelerating sales look set to continue after Brexit, with former Defence Secretary Michael Fallon telling a controversial arms fair in London that demand was going "through the roof" because of increasing war and terror.
"As we look to life post Brexit and spread our wings further across the world, it's high time we do more to compete for a share of this international export market," he told Defence and Security Equipment International (DSEI) before his resignation.
Mr Barns said: "We're being told that Brexit is a time for new opportunities and trading relationships but what that seems to point to more dodgy deals with the Middle East, propping up dictators and warmongering in the region."
The High Court has ruled that arms exports to Saudi Arabia was legal because the available evidence did not prove "a clear risk that the items might be used in the commission of a serious violation of international humanitarian law", but CAAT is hoping to appeal the case.
The campaign group is launching a crowdfunding campaign to continue its legal battle, which has already cost it £40,000.
Kristine Beckerle, a Yemen researcher at Human Rights Watch (HRW), said a "mountain of evidence" against Saudi Arabia had not been properly considered.
Explaining that international law does not require the intent to kill civilians for a violation to have taken place, she added: "What more does the UK Government need to start exerting leverage over the Saudi-led coalition?"
"The UK goes on and on about how it's concerned about the humanitarian situation in Yemen but it seems unwilling to pressure the Saudi-led coalition to make it better.
"It's clear that governments use arms sales as a means of leveraging political support."
The UK has pointed to Saudi Arabia's Joint Incidents Assessment Team (JIAT), which investigates allegations of civilian casualties in bombings, but HRW and other groups say its findings are not robust or credible.
"It feels like people are looking for excuses for arms sales to continue when there is clear evidence that there is a real risk," Ms Beckerle added.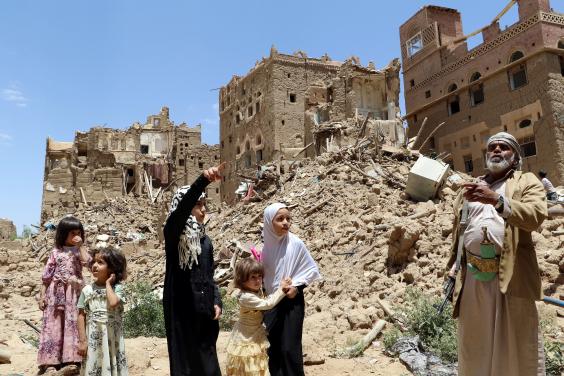 People stand in front of houses destroyed by Saudi-led air strikes in the Yemeni city of Saada (Reuters)
Britain is also carrying out military training for Saudi forces, including a programme helping the Royal Saudi Air Force to "improve their targeting processes".
But the initiatives appear to have had little effect, with the UN reporting more atrocities on Tuesday.
Rupert Colville, spokesperson for the UN High Commissioner for Human Rights, said it was deeply concerned about attacks killing dozens of civilians, including children, over the past week.
"International humanitarian law prohibits attacks against civilians and civilian objects, indiscriminate attacks, and it obliges all parties to take all feasible precautions to protect civilians and civilian objects," he said, listing Saudi-led air strikes that destroyed a market, family home and public square alongside Houthi atrocities.
The conflict started in March 2015 after an opposition offensive drove the government out of the capital Sana'a, sparking an intervention by Saudi Arabia and its allies to support the internationally recognised government.
Critics have accused Riyadh, along with Western allies, of hypocrisy in supporting rebels the Syrian conflict and the "legitimate government" in the Yemen.
Saudi Arabia insists its intervention at the request of President Abdrabbuh Mansour Hadi is a justified operation against his rival's supporters and Houthi rebels.
The head of the country's foreign aid agency previously told The Independent Saudi Arabia was the "number one donor for aid and development in Yemen" and that there was "no intention" to bombard civilians.
But Mr Barns said the "clear pattern of attacks" causing civilian casualties should have caused the UK to stop arms sales to the authoritarian state long ago.
"It's a relationship that gives military and political support to one of the most brutal dictatorships in the world," he added.
"Far from defending the world from terrorism, the bombing of Yemen is also creating ungoverned spaces where al-Qaeda and similar groups are thriving."
The British Government has emphasised that it is not a member of the Saudi-led coalition or party to the conflict, but reinstated its support for its intervention to "deter aggression by the Houthis and allow for the return of the legitimate Yemeni Government".
A Department for International Trade spokesperson said: "The UK government takes its export control responsibilities very seriously and operates one of the most robust arms export control regimes in the world.
"We rigorously examine every application on a case-by-case basis against the Consolidated EU and National Arms Export Licensing Criteria. We will not grant a licence if to do so would be inconsistent with these Criteria.
"The Government publishes regular statistics on the value of export licences, but these are not necessarily a measure of actual exports shipped as exporters must re-apply where a licence is unused. This results in double counting."
But Amnesty International UK said a total halt to British arms exports to Saudi Arabia was "long overdue".
Polly Truscott, its foreign affairs analyst, said: "When the High Court made its very disappointing ruling in the summer, we said there was a clear human rights need for the UK and other governments to stop selling arms to the Saudi coalition unless they were willing to risk becoming a party to terrible crimes in Yemen.
"These figures are a further reminder of how the UK Government is apparently more interested in the financial bottom line for the arms industry, than in the need to protect civilians."
http://www.independent.co.uk/news/uk/home-news/uk-british-weapons-arms-sales-saudi-arabia-yemen-war-increase-500-civilians-war-crimes-export-a8042871.html