There is untreated sewage on the streets of Sana'a. Driving near the airport I simply cannot breathe because of the stench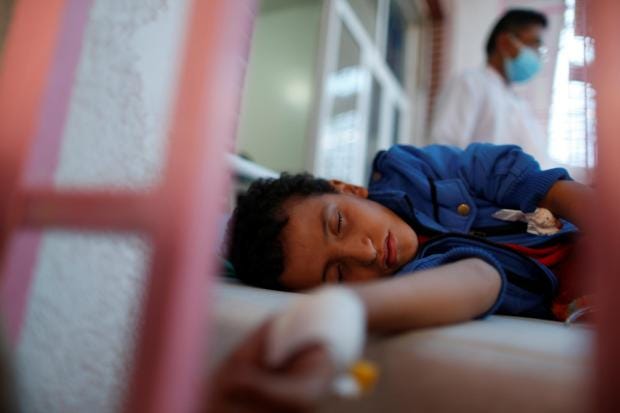 A sick boy rests at a cholera treatment centre in Sanaa, Yemen on 15 May 2017 Reuters
Wael Ibrahim - country director for CARE International in Yemen
When Omar Ali Mohammad went down with watery diarrhoea and vomiting, his mother Khadijah feared that he would suffer the same painful death that her father had endured just the day before. Khadijah told me: "Our local clinic had no treatment for Omar, so we carried him and his sister Amar for two hours to the Government hospital. My husband had to borrow money from a neighbour so that we could afford the tests and treatment. In two days, thank God, he was better - Omar stayed with us."
Omar is one of the lucky ones. Around 1500 Yemenis have died of cholera since April 2017. There have been over 200,000 cases suspected, with around 5000 new cases every day - making this the world's worst cholera outbreak. As an aid worker in Yemen's capital, Sana'a, one of the worst affected areas, I have seen first-hand how war, lack of basic services and hunger have contributed to spread of this sickness.
Cholera is spread when faeces gets into food and water, and clean water, sanitation and healthcare are essential for tackling the disease. But following air strikes, blockades and currency collapse these services are disappearing. We chlorinate our drinking and washing water, but supplies of chlorine are running out, and most people can't afford to buy clean water. The aid programme I run sends truckloads of clean water to health centres and community water tanks where local women and children wait for hours in the heat to collect it.
There is untreated sewage on some streets of Sana'a. Driving near the airport I simply cannot breathe because of the stench. We teach hygiene to try and minimise the spread of cholera. I've had urgent requests for help from hospitals that lack beds, mattresses and medical supplies. I've seen men and children lying in corridors and even in the car park as the hospitals are so full.
We've had no mains electricity in Yemen for two years. People rely on solar and generators, but of course buying generator fuel is extremely expensive.
Life for my friends and colleagues is a daily struggle. The bank has no cash so it is difficult to pay staff, who have struggled to pay for Eid celebrations. Civil servants haven't been paid in more than six months. Most private sector companies have closed down so there are few jobs.
As the conflict goes on I'm seeing more and more poverty.There are 20 million people needing help in a population of 27 million people. I've seen famine-like conditions such as children with red streaks in their hair - a sign of malnutrition, and an alarming number of people at therapeutic feeding centres. We help people by giving them cash or vouchers to spend on food, medicines, school or rent, but with limited resources we can't get help everyone who needs it.
I feel despair, and that there must be a limit to how much people can take. There is no end in sight and I really feel for my Yemeni colleagues. It is only the resilience of the Yemeni people that keeps life bearable. It is going to take years to restore any infrastructure like health services, and rewire the city for electricity. We need more people to talk about Yemen and put pressure on the warring parties to reach a resolution - as only an end to the conflict will enable Yemenis to enjoy something approaching a normal life.
Wael Ibrahim is country director for CARE International in Yemen
http://www.independent.co.uk/Voices/yemen-cholera-saudi-arabia-war-life-is-unbearable-a7824471.html