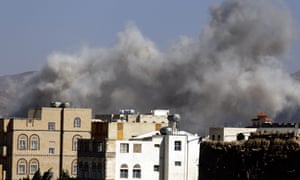 'A Yemen snarled in war threatens many of the expected gains from the Iran nuclear deal; gains that cannot be realised in a heavily unstable region with multiple ongoing wars.' Photograph: Yahya Arhab/EPA
Farea Al-Muslimi
and
Rafat Al-Akhali
The Guardian - Thursday 22 October 2015
10.32 BST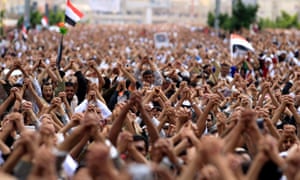 'In 2011, Yemenis of all political stripes, including Houthis, flocked to the streets in hopes of a better future.' Photograph: Khaled Abdullah/REUTERS
In recent weeks this assessment has appeared to prove to be overly optimistic, as Isis, practically unknown in Yemen until this war broke out, has claimed a number of
bloody suicide bombings in the capital Sana'a
, and released a number of videos bragging about their armed presence in the city of Aden. On 6 October,
a series of suicide attacks
targeted the government's headquarters, and the headquarters of the UAE forces in the city of Aden. Isis quickly announced responsibility for the attacks, releasing photos and videos of the suicide bombers.
One of the suicide bombers in particular sent a ripple of fear and disbelief among the residents of Aden. Moath Anwar, who was known as Abu Sa'ad Al-Adani,
according to the video and photos released by Isis
, was a young man in his early 20s from one of Aden's districts. The photos on his Facebook profile, where he goes by the alias "I'm a deadly crazy dude" written in colloquial Arabic, show him as
a fashionable young man
with well-groomed hair and clothing in the latest trends. Those who know him still cannot comprehend how he was recruited by Isis. But we think the trend is clear: the starting point is always: "The future is lost. There is no hope."
In 2011, Yemenis of all political stripes, including Houthis,
flocked to the streets
in hopes of a better future. Today, many of those who once found themselves standing side by side in protests now find themselves on opposite sides of the battlefield. It's a tragedy that underlines the flurry of broken dreams and shattered hopes in the country.
Today the world is watching the killing of innocent civilians in Yemen every day, and it is a shame to stand as silent observers while millions of Yemenis suffer from a conflict that they have no control over.
The UK, together with its international and regional partners, needs to publicly pressure both sides – the Saudi-led forces and the Houthi rebels backed by ex-president Saleh – to agree to a ceasefire and return to a political settlement immediately. At the moment, such a peace settlement remains in the realm of the possible. But, left to smoulder, Yemen risks continuing to inflame the region for years, if not decades to come.
http://www.theguardian.com/commentisfree/2015/oct/22/yemen-peace-conflict-al-qaida-isis